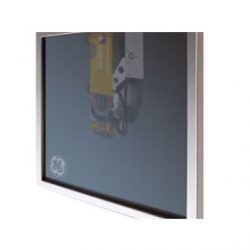 dynamic 41|100 – Superior Image Quality X-Ray Detector
The dynamic 41|100 is the first product in GE's next generation industrial X-ray flat panel X-ray detector platform. At 410 x 410 mm2 detection area and 100 µm pixel size, it combines superior image quality with improved detection speed.
Based on proprietary GE Healthcare X-ray detector technology, GE Inspection Technologies exclusively offers its first 100 µm, 16M pixel detector designed and optimized exclusively for rough and high-energy industrial X-ray applications to its radiography and CT customers. GE's proprietary EnduranceTM CSI scintillator offers superior resolution and brightness compared to conventional GadOx or other powder based scintillators. Call Us Now for Enquiry!