Description
[vc_widget_sidebar sidebar_id="mmpm_menu_widgets_area_1″]
Key Features
First time that fast CT will be available for up to 100 % 3D production process control of complex castings
Typical scan speed of ~1 minute for a cylinder head instead of several hours with conventional CT
Optimized ease of use and cost of ownership due to high grade of automatization
All relevant hard- and software components incl. evaluation algorithms are proprietary GE technology
Robust design for 24/7 at line operation
Benefits
Proven, gantry based computed tomography offers > 200 x faster inspection compared to conventional industrial CT
Much faster CT scanning (better statistics) substituting other NDT inspection and metrology processes
Fast 3D inspection and measurement of complex parts & complete feedback for improved reaction on proccess fluctuations
Early scrap detection before any further processing steps
Optimization of plant equipment and tool maintenance intervals
3D Computed Tomography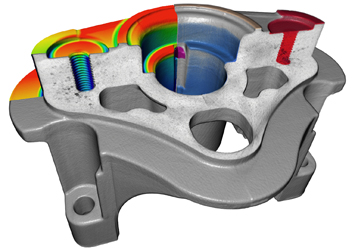 Industrial X-ray 3D computed tomography (micro ct and nano ct) is used for the inspection and three-dimensional measurement of e.g. metal and plastic castings, composites, sintered materials ad ceramics. Materials distribution, voids and cracks are visualized three-dimensionally at microscopic resolution.
Casting & Welding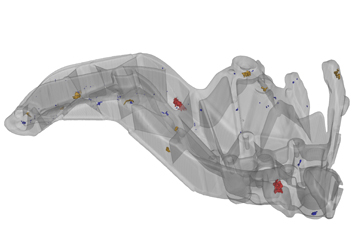 Radiographic non-destructive testing is used to detect flaws in castings and welds. The combination of microfocus X-ray technology and industrial X-ray computed tomography (micro CT) enables defect detectability in the micrometer range and provides three-dimensional images of low-contrast defects.
Metrology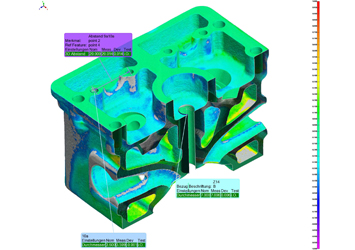 Reproducible 3D metrology with X-ray is the only technique allowing to non-destructively measure the interior of complex objects. By contrast with conventional tactile coordinate measurement technique, a computed tomography scan of an object acquires all surface points simultaneously – including all hidden features like undercuts which are not accessible non-destructively using other methods of measurement. In addition to 2D wall thickness measurements, the CT volume data can be quickly and easily compared with CAD data, for example, in order to analyze the complete component to ensure it complies with all specified dimensions.
Specifications
Inspection Concept
Manual loading & inspection for statistical process control
Max. sample size
appr. 300 x 400 x 800 mm (12" x 16" x 31")
Max. penetration length
Up to 300 mm Al, depending on part geometry
Min. detectable defect size
> 0.5 mm, depending on part size
Detail detectability
> 0.325 mm
Sample weight
Up to 50 kg (110 lbs)
3D Metrology
Fast CAD nominal/actual analysis for process control
Scan speed
5 mm/s – 35 mm/s (overview scout scans up to 100 mm/s)
Geometric parameters
Focus to detector: 950 mm; focus to isocenter: 540 mm; max. scan field of view: 500 mm (aperture: 700 mm)
Scan parameters
kV: 80 kV – 140 kV mA: 10 mA – 440 mA Power: 0.8 kW – 53kW
Dimensions basic cabinet
2,500 mm wide x 2,200 mm deep x 2,300 height (98" x 87" x 91")
Design
Suitable for industrial environment with dust protection, thermal isolation, shock absorbers
Air condition
7.3 kW industrial climate control (air/water heat exchanger); temperature: 15°-40°C
Belt conveyor
Automatic height adjustment: 0-185 mm; Horizontal scanable range: 800 mm; Speed: 5 mm/s to 100 mm/s (loading & unloading up to 200 mm/s)
Control unit
Industrial operation console for scanner & conveyor operation
Radiation protection
Lead thickness: 3 mm (door, walls, floor). The radiation safety cabinet is a full protective installation without type approval according to the German RöV and the US Performance Standard 21 CFR 1020.40. For operation, other official licenses may be necessary.
Software user level
Designer features (Level 3 operator):

Definition of new inspection tasks based on reference datasets
Setting of visualization and computational tasks
Region specific setup of inspection parameters
Definition of visual and semiautomatic inspection

Inspector and reviewer features (Level 2 operator):

Automatic execution of the tasks defined in the designer
Automatic region specific calculation of 3D defect parameters (size/volume, position, distances, equivalent surface and diameter…)
Visualization and result presentation

Pass/fail decision
By operator