Description
[vc_widget_sidebar sidebar_id="mmpm_menu_widgets_area_1″]
Key Features
Superior dual detector technology (digital image chain and active temperature-stabilized digital detector with 30 fps) for brilliant live images
High magnification
Precise Manipulation
High repeatability
180 kV / 15 W high-power open nanofocus tube with up to 200 nanometer detail detectability
Upgradeable to nanoCTÒ
Optional:

x|act software package for easy and fast CAD based high-resolution automated X-ray inspection (μAXI) for extremely high defect coverage with high magnification and repeatability
Brilliant live inspection images due to high dynamic temperature-stabilized digital GE DXR detector with 30 fps (frames per second) and active cooling
3D computed tomography scans within 10 seconds
Up to 2 times faster data acquisition at the same high image quality level by diamond|window
Customer Benefits
Combined 2D / 3D CT operation
Superior dual detector technology (digital image chain and active temperature-stabilized digital detector with 30 fps) for brilliant live images
Automation of inspection steps possible
Outstanding ease-of-use
Mounted Printed Circuit Boards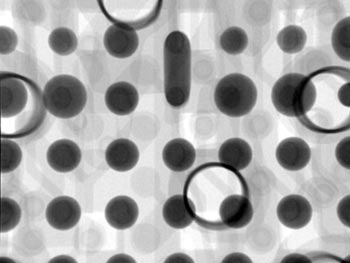 nanofocus X-ray image of flip- chip solder joints inside a processor case. The image shows one solder bridge and several open solder joints. The solder joint diameter is app. 150 µm. (Learn More)
Semiconductor and Other Electronic Components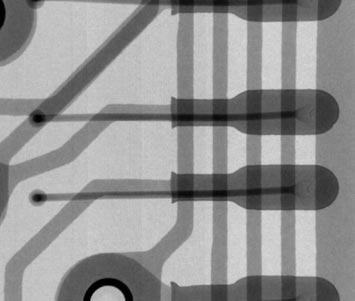 nanoCT® of a µBGA after 4000 temperature stress cycles. Due to a voxelsize of 0.5 microns, cracks with 8 to < 1 micron are detectable. (Learn More)
Accessories
CT option: includes software datos|x, high precision rotation unit, reconstruction and visualization workstation
quality|review: Repair station software for visualizing and manual review of results from an automatic program run, e.g. bga|module, qfp|module or vc|module.
converter:Software package to convert result files, generated by quality|assurance or x|act, into other formats, required by third party software.
quality|analyst: Software package for analyzing and visualizing inspection results, which are collected by an automatic program and reviewed with quality|review.
diamond|window: up to 2 times faster data acquisition at the same high image quality level
4″ Image Intensifier with 4MP Image Chain: This high resolving 4'' Image Intensifier image chain: with full digital read out and image processing is a basic part for all high quality phoenix|x-ray 2D systems. The detector is suitable for 2D real time inspection.
Specifications
Max. tube voltage
180 kV
Max. output
15 W
Detail detectability
Up to 0,2 µm
Min. focus-object-distance
0.3 mm
Max. voxel resolution (depending on object size)
< 1 µm 
Geometric magnification (2D)
Up to 1970-fold
Geometric magnification (3D)
<300-fold
Max. object size (height x diameter)
680 mm x 635 mm / 27″ x 25″
Max. object weight
10 kg/ 22 lbs
Image chain
2 megapixel digital image chain
Manipulation
5-axis sample manipulation
2D X-ray imaging
yes
3D computed tomography
yes (optional)
System size
1860 mm x 2020 mm x 1920 mm / 73.2" x 79.5" x 75.6"
System weight
2600 kg / 5732 lbs
Radiation Safety
– Full protective radiation safety cabinet according to the German RöV (attachment 2 nr. 3) and the US Performance Standard 21 CFR 1020.40 (Cabinet X-ray Systems)
– Radiation leakage rate: < 1.0 µSv/h measured 10 cm from cabinet wall