Description
[vc_widget_sidebar sidebar_id="mmpm_menu_widgets_area_1″]
Key Features and Benefits
Optimum Image Quality
All Structurix films benefit from an Agfa emulsion breakthrough that provides increased contrast and maximum detail perceptibility. In fact, it results in the highest intrinsic defect recognition for each speed range. Even the smallest details can be interpreted with ease. The finished X-ray film has a high quality with a brilliant surface, and the image has a pleasant blue tint.
Protective Coating
An important feature of the Structurix films is a special protective top coating resulting directly from Agfa's Split Antistress Layer (SAL) technology. This top coat gives the fi lms unique high resistance to pressure, scratching and creasing. Another advantage of the top coat is that surface roughness has been optimized for problem free processing in automatic feeders such as the FEEDER.
Consistent Production Quality
Structurix films are manufactured in large quantities. To ensure they meet the most rigorous worldwide quality standards, they are produced at a single facility under tightly controlled conditions in an ultramodern coating room. Agfa's Total Quality Management approach, certified by the ISO 9001-2000 label, is the foundation of the system leading to this exceptional performance in production consistency. People, production equipment, and organization all become one system, geared to consistency and continuous improvement.
It's what we call the "moving target" quality philosophy. Moving target means that to meet the increasing needs of our customers, quality has to be built into our products, not by additional testing, but by design. Agfa's emulsion technology, for example, helps to provide a highly homogeneous emulsion over the total coating area.
Not only do the Structurix films have outstanding quality, they also have an exceptionally high level of batch to batch uniformity.
Consistent Processing Quality
Structurix films have a reputation for providing consistent and excellent results over a wide range of operating conditions. The Cubic Grain Plus technology is at the base of this consistent stable behavior. The extremely narrow grain size distribution, in combination with the cubic shape, assures that all exposed grains (latent image) will simultaneously develop the same density over a wide range of processing conditions. Moreover, they will do so rendering the very high contrast that is responsible for the high image quality.
Darkroom Light Sensitivity
Structurix films may be exposed to darkroom safelight conditions longer without sensitometric fogging (ANSI PH 2.22). This means that brighter safelight illumination can be used, resulting in more ergonomic and efficient working conditions.
BAM Certification
Agfa was the first company in the world that can boast certification by BAM, the German Federal Institute for Materials Research and Testing.
In addition to semi-annual product testing (design approval) and round robin tests recognizing the competence of the Agfa film lab, the certification process involves a quarterly production monitoring and an annual audit at the Agfa plant. The results are recorded in the corresponding certificates.
The most commonly used Structurix film systems based on the film types D4, D5 and D7 combined with G135 developer and G335 fixer are BAM certified. The German Federal Institute BAM conducted a thorough study and awarded the Structurix Eco Film System (5 min. cycle) the certificate of compliance to International Film System Classification Standards.
ISO Certification
We contend that obtaining an ISO certificate is only the beginning. Agfa was the first radiographic film manufacturer to achieve ISO certification for its STRUCTURIX films in 1990. Since then, we have continued the legacy of quality, assuring you that our entire film system – films, chemistry and equipment – is produced under a strict Quality Management System approved to ISO 9000. It's your guarantee of the superior quality of GE Sensing & Inspection Technologies products.
Technological Axis of Structurix D Films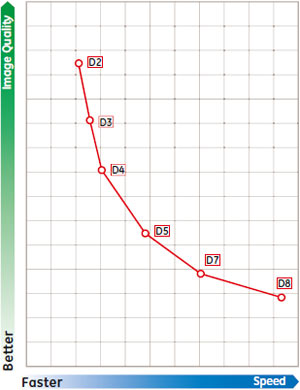 High image quality and perceptibility through optimization of "the signal to noise ratio" for every Structurix film.
Optimization of Contrast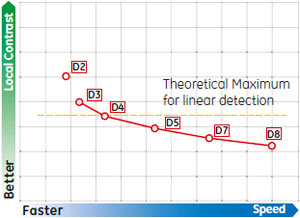 Contrast (signal) of all films are optimized to approach the maximum contrast for a linear detector (industrial X-ray Film), thereby optimizing image quality and perceptibility. An exception to the rule is D2, a super linear detector, where image quality is optimized through more than linear (extremely high) contrast in combination with very low noise.
Quality & Ruggedness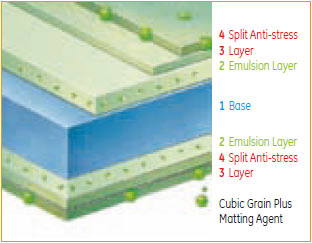 The emulsion coatings are covered by two separate antistress layers (3 + 4). To achieve a rugged surface, the top layer has received the matting agent.
Applications
Structurix D2
Extremely fine grain film with very high contrast. Ideal for exposures requiring the finest possible detail rendering.
Structurix D3
Ultra fine grain film with very high contrast. This film obtains a very high detail perceptibility.
Structurix D3 s.c.
Single coated film with very high image quality, accurate interpretability.
Structurix D4
Extra fine grain film with very high contrast. Suitable for a wide variety of critical applications.
Structurix D4 s.c.
Single coated film with very high image quality, accurate interpretability.
Structurix D5
Very fine grain film with high contrast. Excellent for visualization of discontinuities.
Structurix D7
Fine grain film with high contrast and high speed. Designed for direct exposure or with lead screens.
Structurix D8
Medium grain film with high contrast and very high speed. Suitable for a variety of applications.
Structurix D4W Wide Latitude
Extra fine grain film with medium contrast and very high speed.
Structurix D6W Wide Latitude
Extra fine grain film with medium contrast and very high speed.
Structurix F6
Designed for offshore pipelines or similar applications that need short exposure time.
Structurix F8
High-quality film for fluorometallic (RCF) screen exposure when the speed obtainable with Pb screen
Specifications
Image Quality and Film System Classes
A/Automatic
Chemicals G 135/G 335 – development immersion time : 100 sec. Developing temperature: 28°C
B/Maual
Chemicals G 128/G 328 – development immersion time : 300 sec. Developing temperature: 20°C