Description
[vc_widget_sidebar sidebar_id="mmpm_menu_widgets_area_1″]
Key Features and Benefits
In a first stage the ISOVOLT LYNX will be available as 160kV and 320kV version. Both generators offer enhanced maintenance free options: maintenance free high-voltage plugs on the generator side and new maintenance free bi-polar tube housing for the 320kV version. The integration into fully automated systems for in-line operation has also been optimized. The optional ISOVOLT Lynx Remote control or the ISOVOLT Lynx control ensures a simple configuration, control and operation.
Go here learn more about :
ISOVOLT Lynx Generator
ISOVOLT Lynx Control
ISOVOLT Lynx Remote Control
Applications
The ISOVOLT Lynx is designed to align with the optimized performance of other components in the X-ray inspection imaging chain for a wide range of applications including the automotive, aerospace and metals manufacturing sectors, for tasks such as:
inspection of welds, composites and castings
3D computed tomography and metrology inspections
of particular interest to system integrators working in both the industrial and scientific sectors.
Accessories
Safety devices
Primary interlock switch
Alarm box
Switch box
Flash and warning lamps
Country specific safety kits

 
HV cables
In different standard lengths, with quick-lock or flange connections with rubber cone plugs or maintenance-free plugs.
Dosimetry and calibration kits
Pumps and coolers: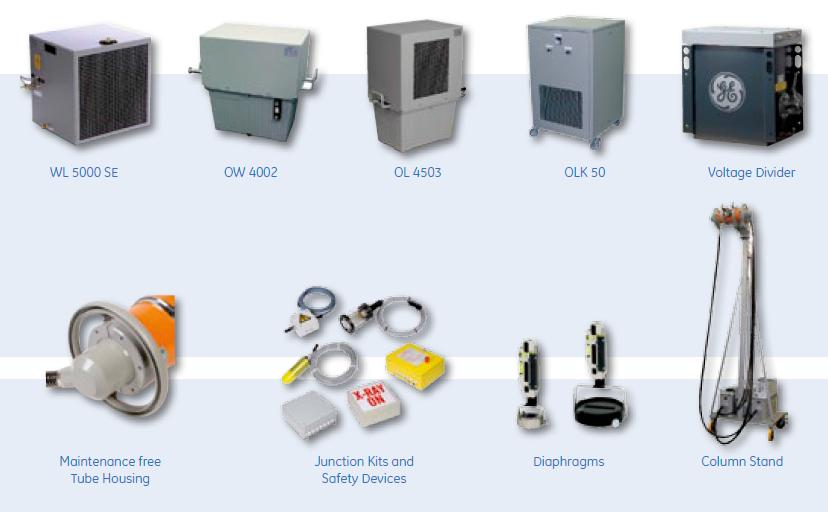 Specifications
ISOVOLT Lynx 160
ISOVOLT Lynx 320
High Voltage Generator
Performance
Max. Output Voltage
160 kV
320 kV
Tube Voltage
from 10 kV to 160 kV in 0.25 kV steps
From 50 kV to 320 kV in 0.5 kV steps
Max. Output Current
45 mA
45 mA*
Tube Current
0.5 mA – 45 mA* in 0.1 mA steps
1 mA – 45 mA* in 0.1 mA steps
Max. Output Power
4 kW**
4.5 kW
Reproducability (Voltage / Current)
<0.1% / <0.1%
<0.1 % / <0.1 %
Resolution (Voltage / Current)
0.25 kV / 0.5 mA
0.5 kV / 0.5 mA
Absolute Accuracy (Voltage / Current)
±1,5% / < 1%
±1,5 % / < 1%
Stability (Voltage / Current)
< 0,01% / < 0,01% ***
< 0,01% / < 0,01% ***
Insulation
Oil (sealed high voltage tank)
Oil (sealed high voltage tank)
Interfaces
High Voltage Connections
R24 Quick Release Flat Socket maintenance free (optional)
R24 Quick Release Flat Socket maintenance free (optional)
Signal
Door contacts, interlock,external E-stop, additional potential-free contacts, standard connections for warning lamp, warning light and cooler/chiller
Door contacts, interlock,external E-stop, additional potential-free contacts, standard connections for warning lamp, warning light and cooler/chiller
Data
RS-232 USB Ethernet
RS-232 USB Ethernet
Dimensions
Dimensions (W x D x H)
1080 x 425 x 605 mm (42,52" x 17,7" x 23,82")
1080 x 425 x 870 mm (42,52" x 17,7" x 34,25")
Weight
120 kg (265 lb)
200 kg (441 lb)
Electrical Connection
Mains
1N PE 230V ± 10%, 50/60 Hz
1N PE 230 V ± 10%, 50/60 Hz
Installation Conditions
TN-S or TN-C, 35A time-delay fuse, customer supplied, power requirement 7.4 kVA
TN-S or TN-C, 35A time-delay fuse, customer supplied, power requirement 7.4 kVA
Environmental
Operating Temperature Range
0°C to +40°C
0°C to +40°C
Storage Temperature Range
-30°C to +70°C
-30°C to +70°C
Certification
Certification
CE, UL, NFC 74 100
CE, UL, NFC 74 100
Control Module
Features
Touch-resistive, color display
Desk-top housing
X-ray on/off, E-Stop, 3-position key switch
Dimensions
390 x 240 x 120 mm (15,35" x 9,45" x 4,72")
1.2kg (2.64 lb)
Remote Control
Features
PC Application X-ray control and service (Win 7, Win XP)
USB to RS232 converter
Fail-Safe E-Stop Box (optional)
*    40 mA permanent operation, limited to peak operation
**   Limited to tube specifcation, temperature and operating mode
***  At constant temperature level