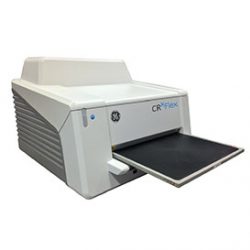 CRxFlex Computed Radiography Scanner
Proven Computed Radiography Scanner – now upgraded with better performance.
Designed specifically for applications in non-destructive testing, the CRxFlexTM is optimized for usage with both isotopes and X-ray sources. The system versatility can be seen through the premium performance across a wide range of applications.
The new CRxFlex™ a reliable field-proven platform with upgraded core technology for
– Improved Noise Performance
– Excellent Image Quality
– DICONDE compliant image analysis and data management Call Us Now for Enquiry!